The Salzkammergut area is a spectacular region of Austria and the holiday accommodation at the Rosenhof provides a great base for getting the most out of your summer holiday.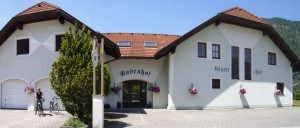 Set in the gateway of the Salzkammergut region as we are, there are a wealth of activities to whet your appetite for adventure. If you don't already know, Ebensee is set on the southern shore of Traunsee (Lake Traun) as well as being at the base of the mighty Feuerkogel mountain. After the winter snow melts, the conditions on Lake Traun make for perfect sailing, kite surfing or wind surfing. If you don't want to use wind power, then you can always try your hand at kayaking, diving or just having a swim! As if that wasn't enough, there is also the largest artificial wave in Europe where you can river surf on the nearby Traun river.
If you're not into getting on the water, then enjoy its beauty from the saddle of a bike as you ride alongside it, stopping off at hamlets along the way to admire the views. For an even more breathtaking view, get your hiking boots out and hike to the top of the Feuerkogel (or if you're not so energetic let the cable car take the hard part out of it!). If you're into extreme mountain biking, don't forget to take your bike up there and try out the 50 degree steep downhill MTB path, and if you really are hardcore you can cycle up to the top as well!
After a great day on the saddle on our summer cycling holiday you can enjoy the comfort of our beautiful guesthouse and then swap saddle stories in our lounge or out on the terrace whilst the sun sets. If you'd rather not peddle you can still use your legs whilst out on our self led walking holiday.
And if all that sounds like too much hard work then there's always the spa at Bad Ischl or even an art course based in our neighbouring village, Traunkirchen.