Mountain Biking in Austria probably doesn't get much better than this.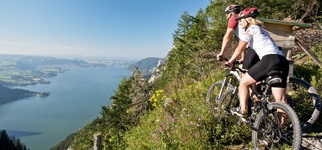 It's a big claim but we think it's true! There are some incredible trails around Ebensee and the variety on offer caters for a wide range of abilities from beginner to expert.
Trails suitable for family and relaxed riding include those following the shore of Lake Traun along dedicated paths whilst the imposing mountains tower above, or forest tracks that weave beside mountain streams, or with a bit of effort, tracks that lead to lakes situated a little higher in the mountains such as Langbathsee, a stunning spot where many TV adverts are shot.
We have many routes that we can advise on when we meet you, more info can be found here cycling holiday.
If you're bringing your own mountain bike (downhill/enduro only) and want to see what it is capable of, then the 50 degree course from the top of Feuerkogel is a must, though it really is only for experts so be warned! For a taste of something a little bit more typical in the area check out our video of a trip to the Spitzlsteinalm below.