Try something new on your winter holiday this season and explore a family ski area that will keep you coming back for more!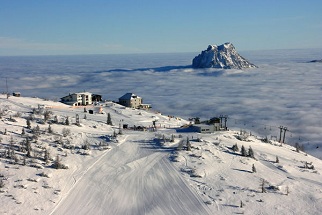 Snow doesn't just make everything look pretty, it's great fun to play with too! Not only do we have a great skiing area for the whole family but there are some brilliant activities at our local resort, the Feuerkogel, which is just a 5 minute drive away. Why not take part in a torch lit guided hike? Ever spent the night on the mountain in an igloo that you built yourself (maybe with a little help from your guide)?
Over at the plateau on the Krippenstein, you can ride with a guide on the extensive freeride off piste, then take to the skies paragliding before heading back home for an evening relaxing at the Rosenhof.
Of course if you really want to focus on skiing or snowboarding then you can, as a ski pass of 1.5 days or more (specifically a Dachstein West ski pass) gives you access to 5 different ski areas and a total of 160km of pistes! So for a week's stay you could ski or snowboard a different mountain each day! If that sets your pulse racing, please check out our skiing information for more details on the pistes and facilities.
If you've never tried snowshoe hiking, or cross country skiing then treat yourself to an experience that enjoys the mountains and sparkling white scenery at a slower pace. Or if you'd rather go up the slope than down and explore some real backcountry, give ski touring a go.
Still sounds too active? Then get totally relaxed and spend a day at the spa in Bad Ischl and give your legs a holiday!
Please check out the individual winter pages for more details and if you'd like a peek at where you could be skiing this winter check out the webcams below: