Fresh tracks and some excellent snow parks are just waiting for you and your snowboard.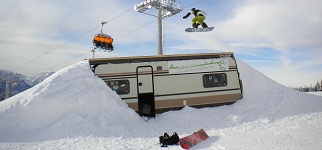 Okay so we can't control the weather, but when the snow dumps arrive fresh tracks are waiting for you to lay them down. As many smaller resorts are often overlooked the freeride snowboarding here is great, as many areas remain track free for several days after some fresh snow.
When you're bored of making fresh pow turns (as if!), take it to one of the many parks in the area and show the locals how its meant to be done!
For more information on the pistes and areas waiting for you, check out the skiing page.
To give you a small taster of our local mountain, the Feuerkogel, we have uploaded a video to YouTube which you should be able to see below.