Based amongst some of the most stunning mountains and lakes in the heart of Austria, our holiday accommodation is a great place to explore from.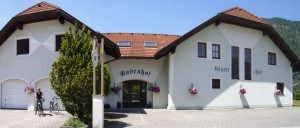 Grüss Gott
Come and discover the beautiful Austrian Lake District, the Salzkammergut region, with its majestic mountain scenery and crystal clear lakes. Our spacious guesthouse with bed & breakfast holiday accommodation, is set in a peaceful location with mountain views from every window. Leave the pressures of modern life behind and relax in this unspoilt area where the pace of life moves slower and you just can't help taking a deep breath and falling under its spell. To get an idea of our beautiful guesthouse and the stunning area around us please take a look through our photo gallery.
Ebensee is set on the southern shore of Lake Traunsee and offers you a great base to explore a wealth of activities, including a wide range of hiking paths, dedicated cycling routes, as well as sailing and much more, all in the beautiful Salzkammergut region of Austria.
There is something for everyone to enjoy, from leisurely bike rides, walking around beautiful lakes or maybe just take it easy and relax in the Thermal Spa Baths of Bad Ischl. After a day exploring you can then come home and relax by our traditional Austrian wood burning stove in our comfortable lounge with a glass or two of wine.
If you're planning a winter holiday of skiing or snowboarding, then why not take advantage of our spacious and conveniently located accommodation for reaching the excellent and varied slopes. Ebensee is perfectly situated for getting the most out of an active or relaxed break surrounded by some of the most beautiful lakes and mountains of Austria. Please see our winter section for more details.
We hope you find everything you're looking for, but if you need any more information please call us on +43 (0)664 99 55 321, or drop us an e-mail via our contact form. We look forward to hearing from you and hope you'll come and stay soon.